The Colourpop Edit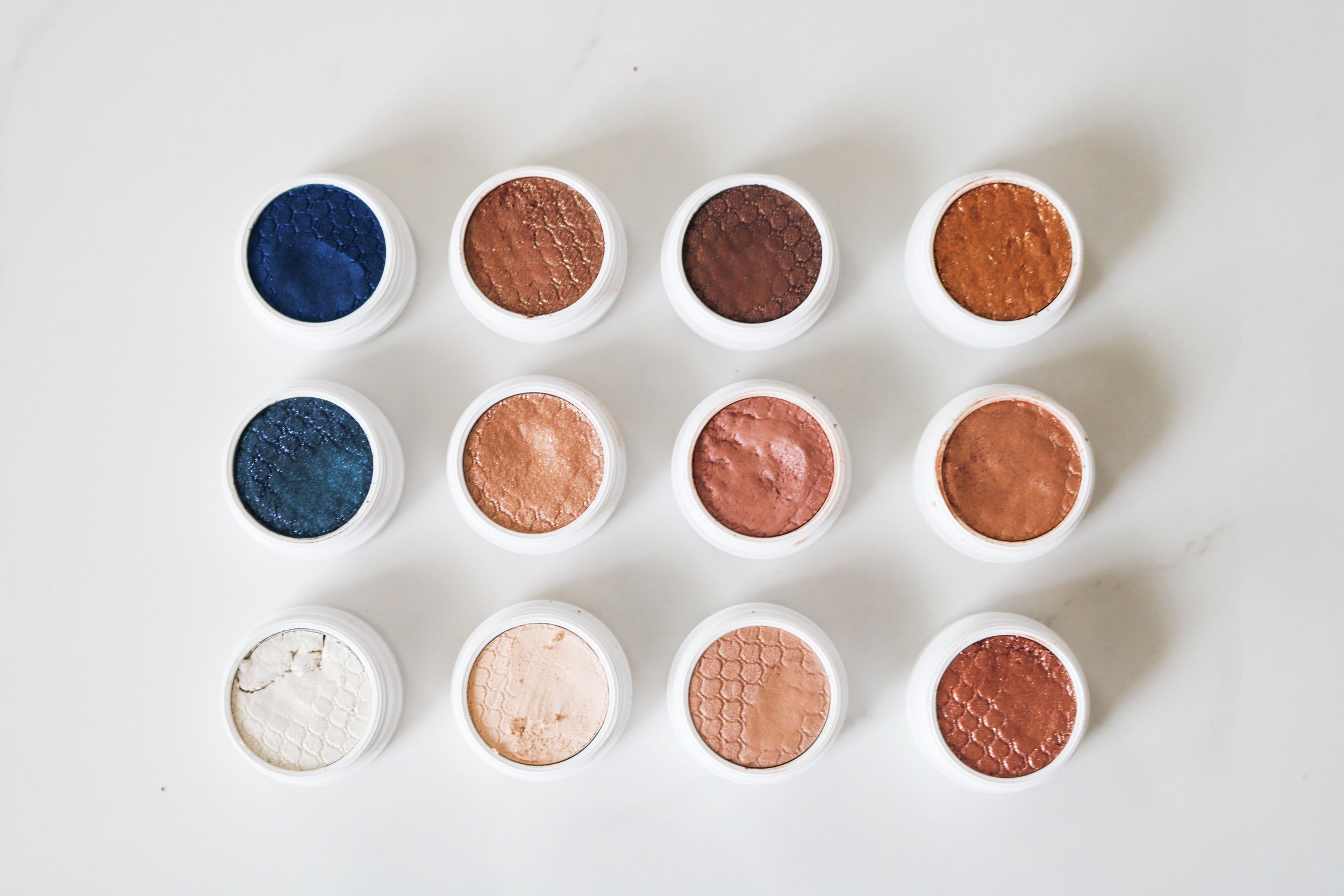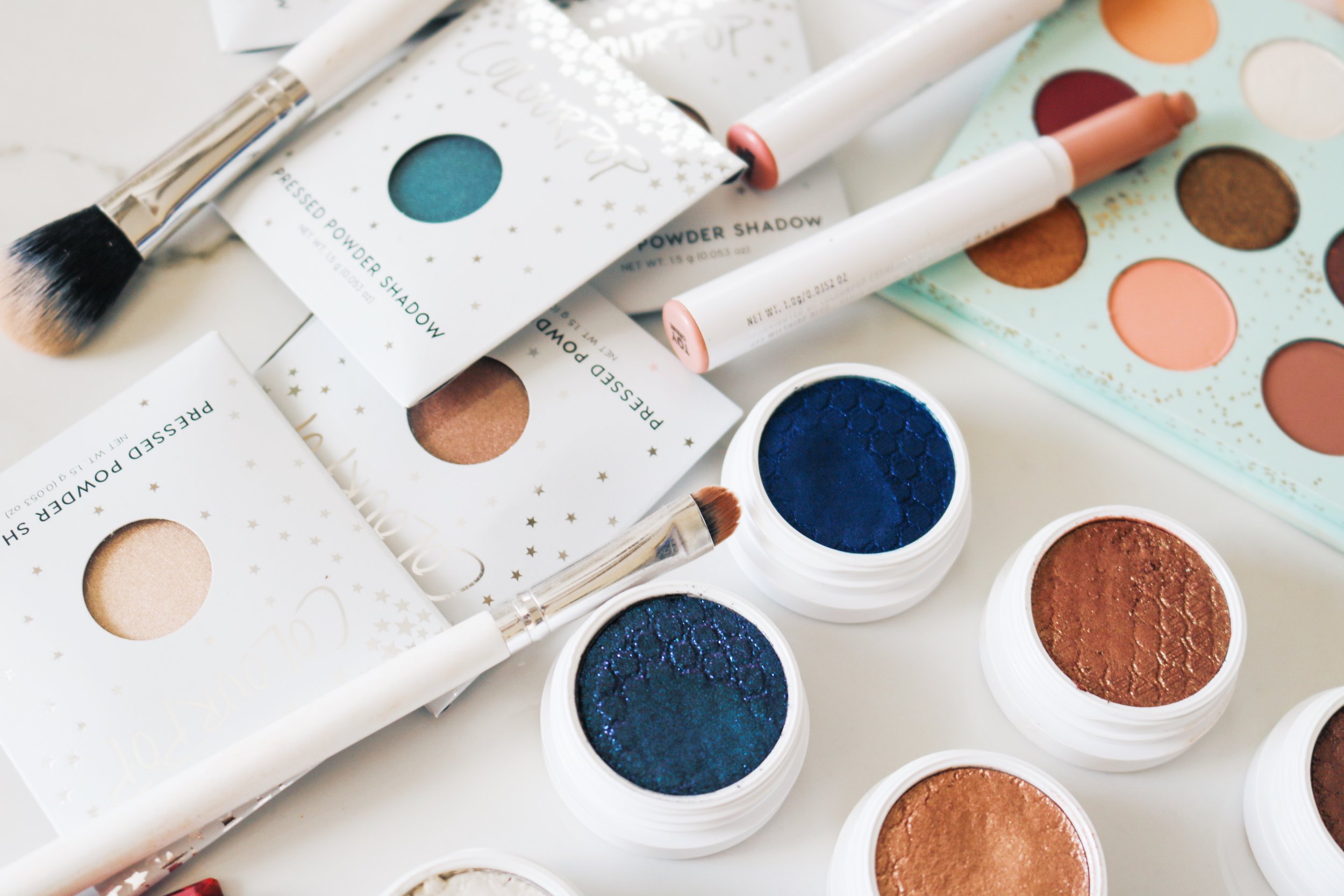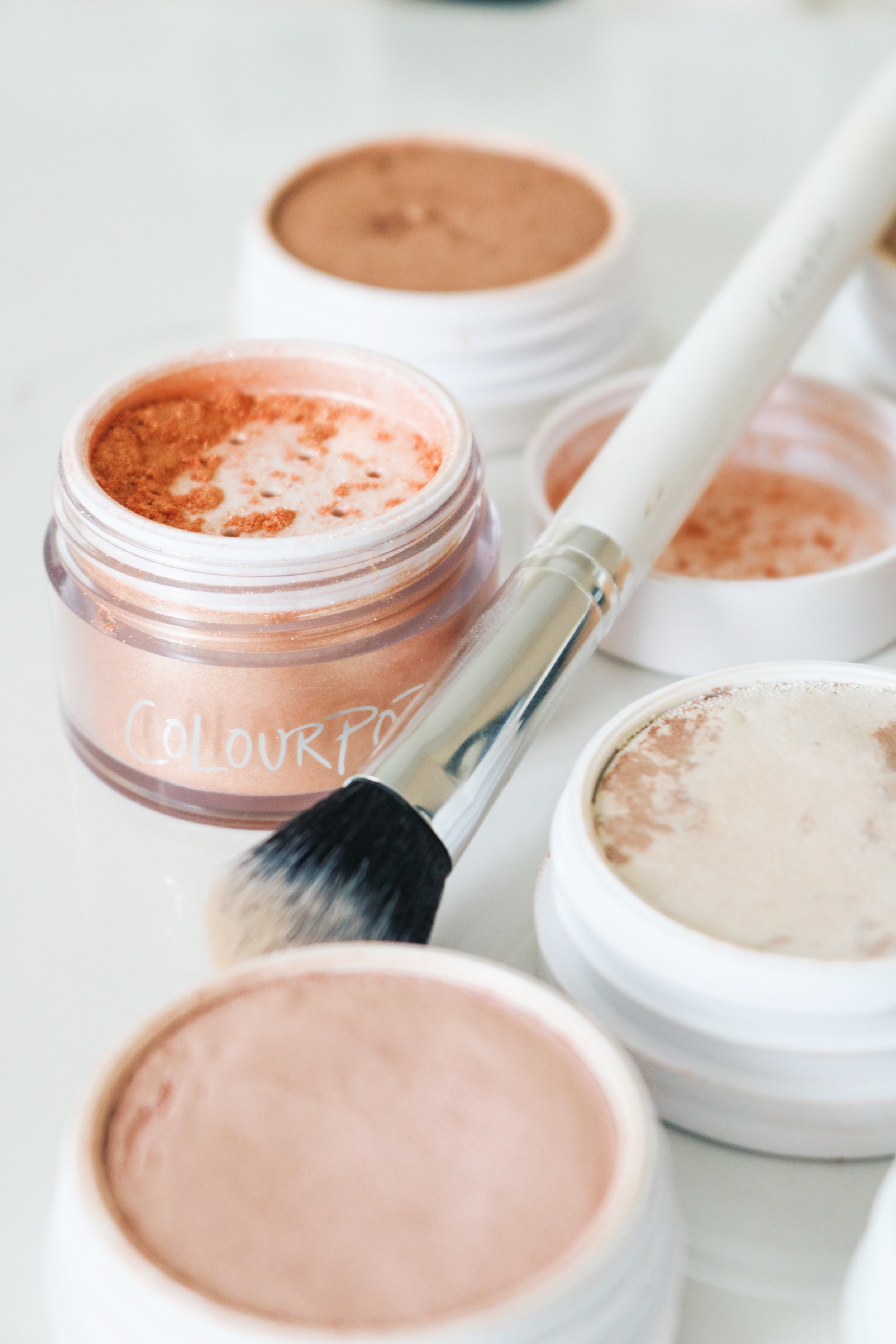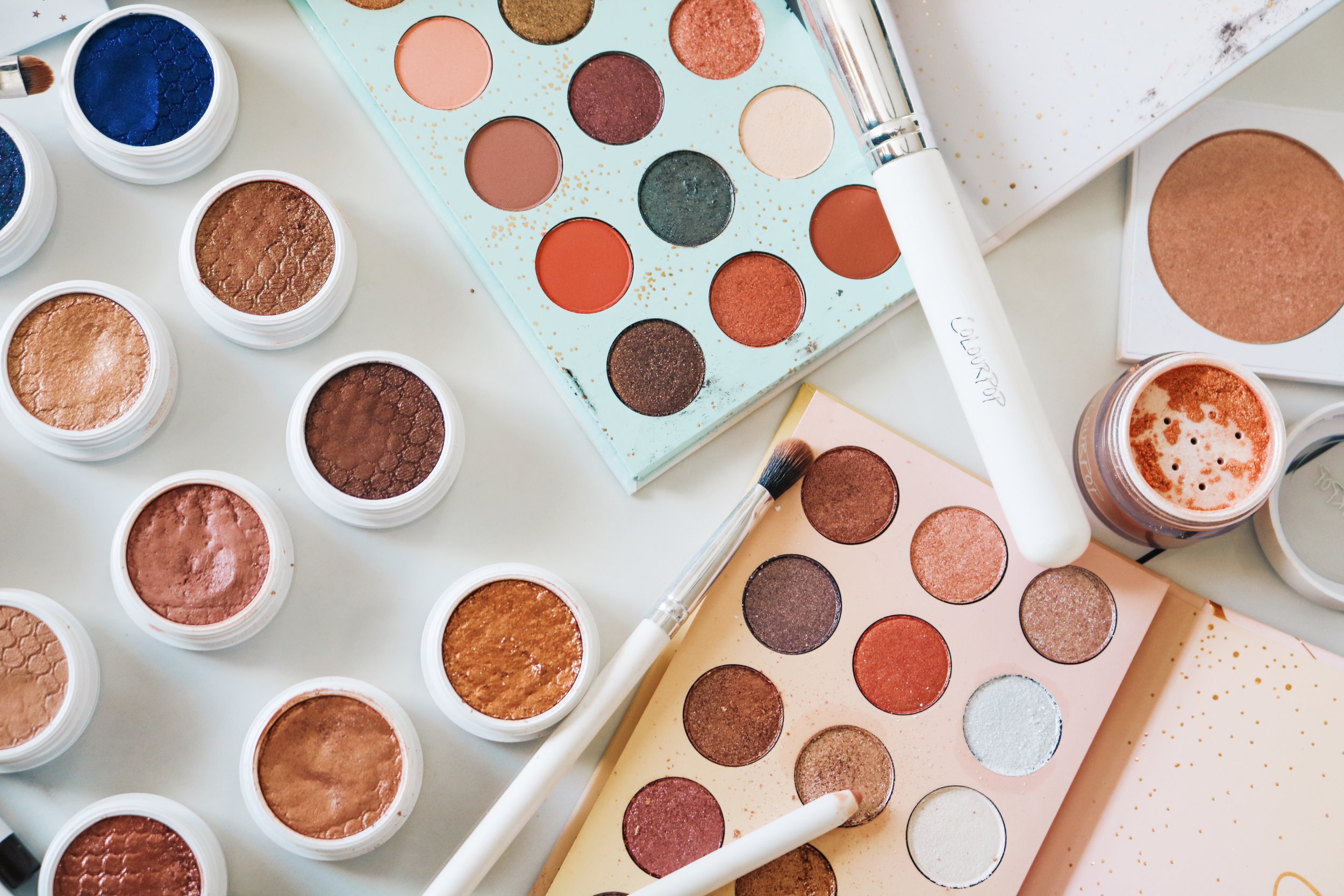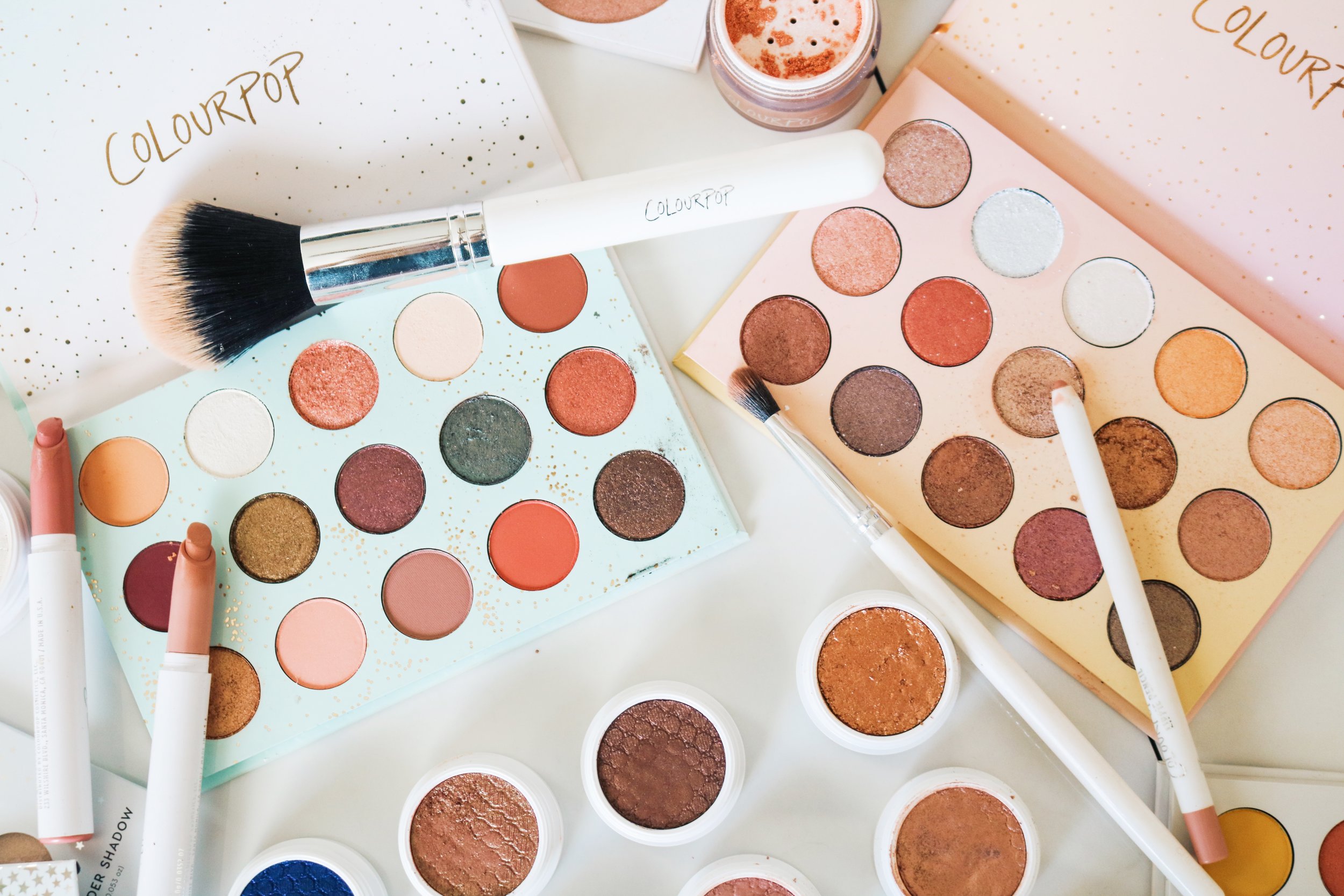 Within four short years, Colourpop has developed into the queen of luxury beauty at affordable prices. Their collaborations range from brands like My Little Pony to makeup moguls Kathleen Lights, Laura Lee, and Karreuche. Their colors are constantly coming and going and they've had no less than five new formula drops this past year (think setting sprays, lip balms, pressed blush and highlighters, concealers and brushes). Their new products consistently sell out on launch day and during restocks. And to top it off, every product is - in my opinion - reasonably priced and often on sale. The only foreseeable downside to the brand was that they were exclusively E-commerce. That is, until they struck a deal with Sephora and launched in select stores in November 2017. I've consistently bought product from them for the past year and a half, slowly growing my collection and experimenting along the way.
Eyes
Colourpop makes several different products when it comes to eye makeup. While they have yet to launch any form of mascara, they offer stick eyeliner, brow products, liquid eyeshadow, palettes, and several formulas of single pan eyeshadows. I've yet to try out their brow products and liquid eyeshadow (but that will happen soon enough I'm sure), but their other eye products have been a steady rotation in my routine the past year.
I often use their crème gel liner in Call Me for an everyday brown. While I wouldn't claim to say it's long lasting, it gets the job done for work and rings in at $5. Their liner and pomade formulas are a great option if you're looking to get creative with a blue or purple liner look but don't want to shell out for anything expensive.
Colourpop's power as a cosmetics company comes not only from their ability to produce quality pigment at a low price point, but the vast diversity of color options they provide. Whenever I'm looking for a specific color to try out, like an emerald green or a shimmery navy blue, Colourpop is the first place I check. I've started a small collection of their Super Shock shadows, and the color payoff is incredible. Same goes for any palette I've gotten from them. I love how affordable these palettes are, each themed and having at least one or two colors in it that I wouldn't typically have thought to try out. I am in love with their All I See Is Magic and Golden State of Mind holiday palettes. They have the most beautiful shimmer and foil-like shades that are my go-to for glamming up a look when I'm going out.
Lips
Though I don't own many of their lip colors, I love how creamy their Lippie Stix formula is. It's not super long lasting, but I like how they make the corresponding lip liner for each shade. Their Blotted Lip formula is slightly matte, with much longer staying power and build very easily for a deeper color.
More notorious, however, are their liquid lipsticks. Rumored to have almost the exact same formula as Kylie Cosmetics Lip Kits, Colourpop produces Ultra Matte, Ultra Satin, and Ultra Blotted liquid lipsticks at a third of the price, great for if you're unsure if a certain shade will look good or not. They are long-lasting and I love how their website swatches pretty much every color of any product on a light, medium and dark skin tone. They're also constantly swatching on their social media, which helps so much in the buying process and deciding on colors that will actually work for you.
Face
Finally, Colourpop makes some of the BEST highlighters I have ever come across. While swatching one of my favorites, their Super Shock Flexitarian, my roommate let out an audible gasp at the pigment payoff and cushion-like feel. They are literally so soft and so pigmented that no matter the color, your highlight will be super poppin'. I love layering them on top of some of my more finely milled Becca highlighters for a super beaming highlight on a night out.
Their pressed powder highlighters give off just as much shimmer as the super shock formulas, and my favorite of them all is their Gimme More! highlighter palette. If you had told me I would love putting tangerine highlighter on my face a year ago I never would have believed you, but after buying this last summer I love any fun chance I get to break this color out from the palette. It's such a great value - like everything Colourpop - and I love using it when I'm tan for a different fun beachy look. They also just launched three loose highlighters that are so finely milled they blend like a dream. I swear they are almost identical to Kylie Cosmetics Ultra Glows, from formula to packaging. I am obsessed with the Aura Voir Loose Highlighter, which is such a beautiful peachy gold.
Their Super Shock Blush is the same formula as their highlighter, but less is more when it comes to application. You need very little of this product since it's so pigmented, and it's easiest applied with your ring finger to your cheekbones and blended in. By all means, use all the highlighter you want - I will always support you - but go easy on the blush.
Perfect for their Super Shock formulas, they recently launched their new line of brushes. These are amazing brushes for such an affordable price. Every brush I've gotten from them has become a daily part of my routine. Their Small Dome Brush is the perfect brush for turning eyeshadow into a liner or patting pigment onto your lid. The Large Powder Brush is my go-to for blurring powder and I could not do my eyeshadow without their Small Tapered Brush and their Tapered Blending Brush. Their Small Fluff Brush is also great for blending out highlighter and works well with their Super Shock formula.
Overall, Colourpop delivers some of the best value makeup across the board. They consistently launch formulas that live up to the hype and they know what they're doing when it comes to digital marketing. Their products are well swatched and well defined, leaving little room for wondering what kind of shade something is or what finish it's going to give you. It is my go-to brand recommendation for anyone looking to start experimenting with eyeshadow, highlighter or just different colors in general. The only downside is how quickly they sell out and get discontinued. Almost all of these products I'v bought within the past year, and some are already discontinued. Definitely make sure to snatch up your favorite shades while you can!
Comment below with your favorite shades or formulas, I'm always looking to experiment with new Colourpop colors!